Tynic Automation, in conjunction with Europe's leading chain manufacturers, supply high-performance gripper chains for the bottle and beverage industry. With decades of industry experience, Tynic's engineering team is available for full conveyor line audits and line replacements.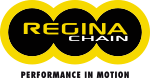 Gripper chains are generally utilised to elevate, lower or buffer products during the manufacturing process. It consists of two parallel sets of conveyor that are joined together on an adjustable mechanism which allows the unit to accommodate different size products.

Two sets of chain are attached in a gripper in order to transport products to higher or lower elevations while taking up minimal floor space. It holds the product in a firm but gentle manner before releasing it to another chain/conveyor.