PTFE Coated Adhesive Tapes
Taconic Tac-Tapes™ are constructed with a variety of backing materials that are coated with silicone or acrylic adhesive to meet your specific performance requirements.
Tape grades include Standard, Premium, Fibreglass, Film Tapes and Specialty Tapes
Premium Grade Tac-Tapes™ are suited for the most demanding non-stick applications that require the highest PTFE-to-substrate ratio in their class. These tapes provide optimal release, chemical resistance and electrical strength.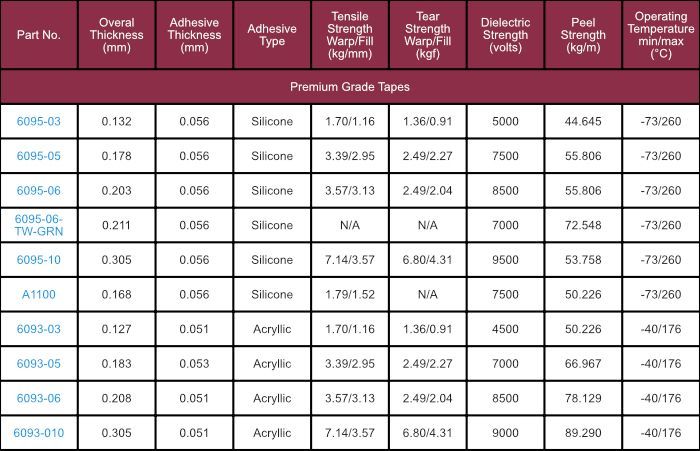 Standard Grade Tac-Tapes™ are preferred for most adhesive applications where a smooth surface with excellent nonstick properties is required.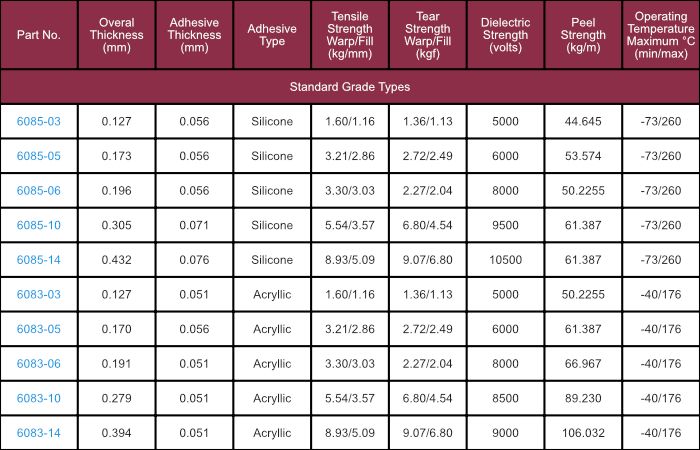 PTFE Fibreglass Cloth Tape
PTFE Fiberglass Glass Cloth Tac-Tapes™ are used to mask parts for thermal spray applications as inner and outer wraps for transformers and motors.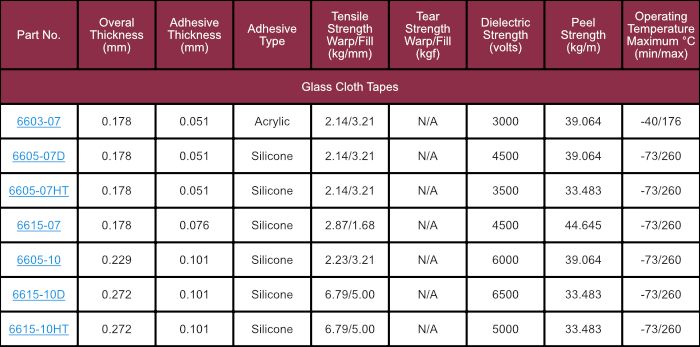 Film Tapes (Skived PTFE, High Modulus PTFE, UHMWPE)
Skived PTFE Film Tac-Tapes™ are effective as wire wrap and insulation tapes in high dielectric/high temperature and masking applications
High Modulus PTFE Tac-Tapes™ offer high wear properties in heat sealing, wire wrapping and electrical insulation for coils, capacitors and transformers
UHMW Film Tapes are ideal for automotive, hose lining and low temperature mechanical applications
FEP Film Tape provides optical clarity for see-through wire harness identification and excellent dielectric properties for coil and transformer insulation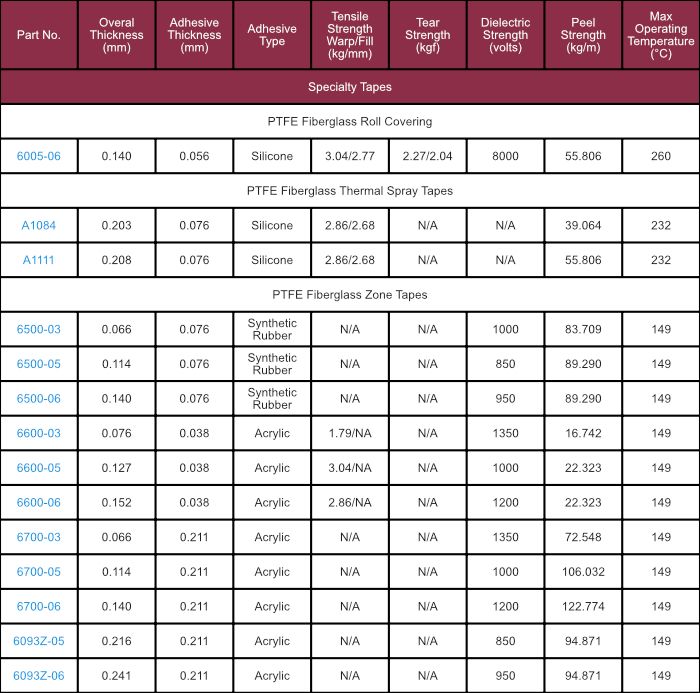 Specialty Tapes (Roll Covering, Zone Coated, Thermal Spray)
PTFE Fiberglass Roll Covering provides non-stick protection of rolls, drying cylinders and textile dry cans from sticky residue during material processing.
PTFE Fiberglass Zone Tac-Tapes™ are ideal for sealing applications, plastic bag manufacturing and acting as a barrier between hot surfaces and sealing materials (for use with L-sealer bars and vacuum sealers).
PTFE Fiberglass Thermal Spray Tac-Tapes™ provide abrasion and temperature resistance for masking in metal/ceramic plasma spraying, flame spraying, HVOF (High Velocity Oxygen Fuel) spraying and grit blasting.