Mining Industry Applications
Tynic is heavily invested in supplying high quality and reliable products for Australia's mining industry. Common plastics within mining include Nylon, UHMWPE and Polyurethane. These materials are applied as truck linings, coils, material handling, bearings, motor housings, seals and rollers. Self-lubricating nylons are also extremely popular, replacing greased bearings within tough environments.
Benefits to using plastic as opposed to steel in mining include: lower cost, less weight, lower production time and higher efficiency. Plastic also maintains a significantly higher resistance to abrasion. As a result, UHMWPE is often utilised as lining for trucks or storage.
Engineering Plastics
The deciding factors for choosing engineering plastics are heavily dependent on its application. The following needs to be taken into consideration:
 Density (Weight)
Corrosion Resistance
Impact Resistance
Is it Physiologically Inert?
Sliding Abrasion Resistance
Co-Efficient of Friction
Temperature Resistance
Dielectric Strength
Weather Resistance
Affordability
For the application of mining, common materials include HDPE, UHMWPE, Acetal, Nylon and Polyurethane. This is mainly due to the requirement for either affordability or impact strength. for more details including datasheets
See the Engineering Plastics Page for more details including datasheets.
UHMWPE Lining
Utilising UHMWPE material, thermoplastic truck bed linings protect the interior of a haul trucks from abrasive material storage. Providing a low co-efficient of friction, UHMWPE maintains excellent abrasion resistance within harsh environments.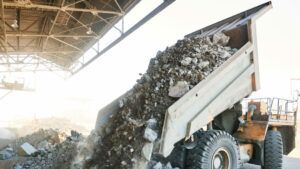 Industrial Rollers
Tynic is a supplier of custom sized rubber or polyurethane rollers for mining applications.  Rollers made of polyurethane are extremely wear resistant and can carry high loads in comparison with alternate materials.